TEAM
Our people are the cornerstone of our business. We work with passionate, curious individuals and we want to nurture and champion our talent, helping our team to progress, feel valued and supported so that they feel inspired to join us in leading the change we want to see.
Everyone joining the business receives a full induction, including a tour of the farm and a session with our sustainability team to learn about how they can help make a difference through their role.
Heart of Daylesford is our annual programme designed to give twelve rising stars the opportunity to go behind the scenes across all areas of the business; to learn from our senior team and take a deep dive into the way we operate. There's also a chance to feed back ideas and concerns.
Our Future Foodies Internship is a year-long, paid internship programme providing hands-on work experience in all food areas of the business, including the market garden, kitchens, cookery school and production units. Graduates regularly go on to secure roles within Daylesford; many are still with us today. If you'd like to be part of our growing team, we'd love to hear from you.
EDUCATION
We believe education and understanding fuel change. By passing on knowledge and skills and sharing resources and ideas, we hope to encourage a connection to nature and an instinct to protect it. We want to lead with purpose: to empower others to understand the impact their choices are having on the world and the people around them in order to encourage behavioural shifts and inspire action. Engaging the next generation is an intrinsic part of this vision.
We are passionate about experiential education and getting children outdoors into natural environments. Our sustainability team goes into schools to offer insight and information about sustainable food production and farming, and from spring to autumn invite local schools to visit our farm, with talks and classes tailored to match the age group and learning aims. Students learn about how their food is grown and can witness the benefits of living sustainably and nature conservation. To date we have covered topics ranging from seed dispersal and growing plants to animal classification and foraging.
A varied events and workshops programme at our Cotswold and London sites teaches skills ranging from floristry and hen keeping to crafts, such as wreath making, spoon making and calligraphy. Our Cookery School courses teach customers how to cook and eat in tune with the seasons. At each course there is an opportunity to explore our market garden, to taste ingredients fresh from the soil, or meet our heritage breeds and reconnect with the land.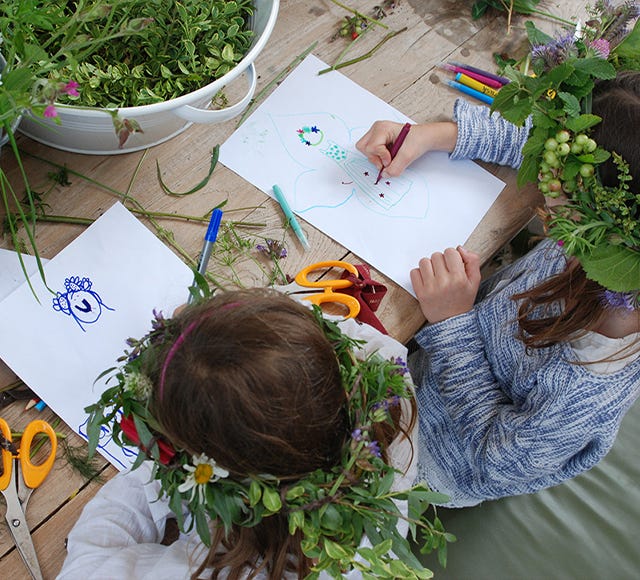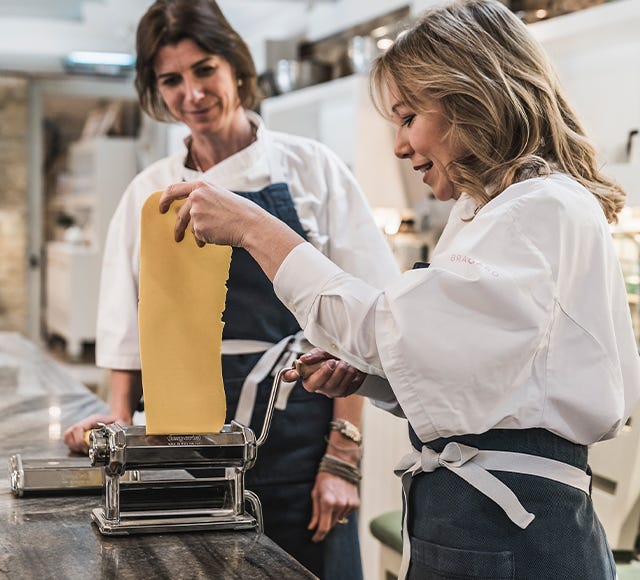 COMMUNITY
In order to create change at the scale and pace needed we must go beyond the boundaries of our own business. Having a voice on important issues, and starting and joining the conversations that matter are vital if we are to tackle the climate and ecological emergencies we face. By connecting with others, learning from each other and inspiring collective change we will go further, faster.
We believe it is our responsibility to have a voice on environmental and social issues. Sharing stories, ideas and provoking discussions are key to making meaningful progress towards a more sustainable future. We use our social media and farm site as platforms and a force for good, bringing people together to connect and take collective action. This might be by inviting other farmers and businesses to visit us on the farm, or through the events we curate that bring together influencers and activists.
Through our collaborations with local environmental and educational organisations we are supporting a local and regional movement around sustainable food, farming and lifestyles. Our farm is also collaborating with local farms as part of the North East Cotswolds Farming Cluster to increase farm sustainability. As part of this collaboration Daylesford has joined the UK's largest Landscape Recovery Pilot to test out the government's proposed plans on Environmental Land Management.
Further afield we are unafraid to speak up on causes we care about. Recent examples include supporting the Soil Association's Stop Poison Poultry Campaign and joining 50 businesses in writing to the UK Prime Minister to reverse the government's decision to allow harmful pesticides.
We were one of the founding members of Agricology, an independent knowledge platform supporting farmers and growers to transition to more sustainable and resilient farming systems and inspiring them to adopt regenerative agriculture practices. Its vision is that all farmers will be using agroecological and regenerative practices by 2030 to deliver productive, profitable, and resilient farming systems that enhance the environment and ensure a vibrant sustainable future of farming in the UK.