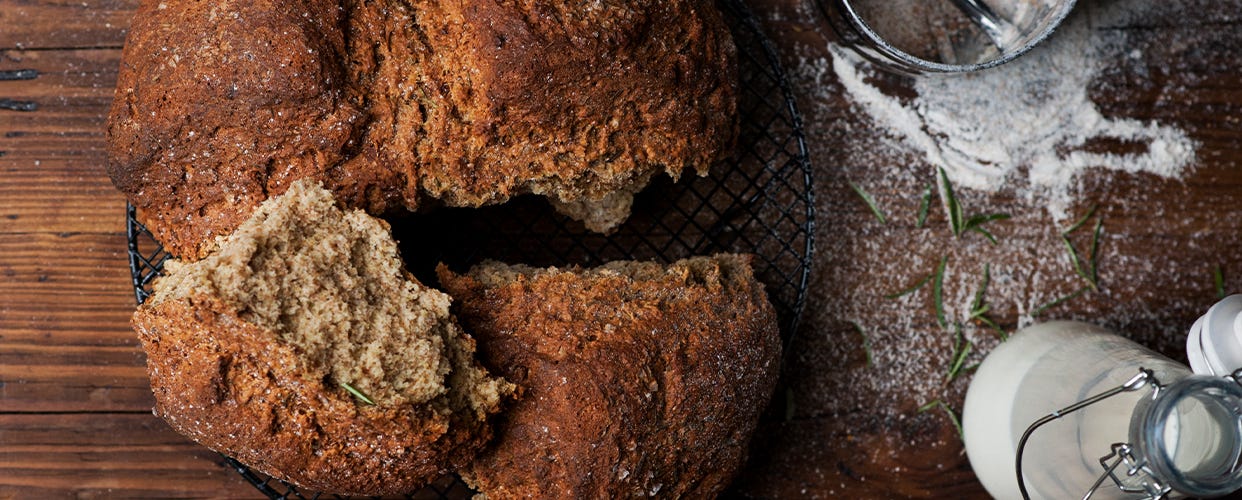 Breaking bread with Clodagh McKenna
Irish chef Clodagh McKenna is a regular face on TV screens and has written several best-selling cookbooks.
To celebrate the launch of the limited-edition Clodagh's Soda Bread at Daylesford, we invited Clodagh to share the inspiration for her recipes, her must-have ingredients and how she juggles her busy schedule.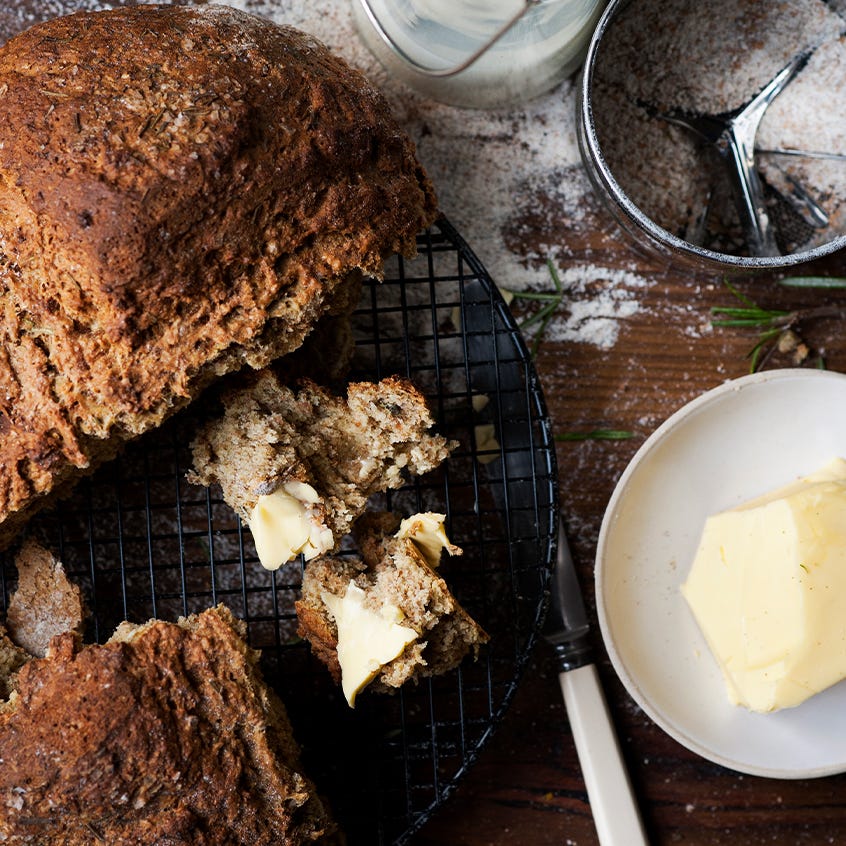 IS SODA BREAD ON YOUR TABLE EVERY DAY?
Soda bread has been the centre of my table all my life. Every Saturday morning when I wake, I make a cup of coffee and bake my soda bread in my pyjamas. I love the ritual of making it early in the morning as the sun comes up and everything is so silent. The smell of the freshly baked bread wafting through the house as everyone else wakes fills the house with love.
The cross on the bread is the blessing of the bread, giving thanks for what we have. Once it is on the table, I follow tradition and ask the youngest or a guest to break the bread and make a wish.
Clodagh's Soda Bread is a recipe that is based on the traditional Irish soda that I have adjusted throughout the years. Speckles of sweet rosemary and sea salt throughout the crumbly wholesome bread give it my signature flavour.
WHAT'S YOUR FAVOURITE ST PATRICK'S DAY TRADITION?
I have an annual St Patrick's Day party in my private pub The Cork Arms in our woods. The evening is filled with everything I love and miss about Ireland – traditional Irish musicians, oysters from my friends in Carlingford, a big pot of Irish stew, Clodagh's Soda Bread (of course!), my chocolate Guinness cake. But most of all seeing all my friends and family forget about life for the evening and get immersed in singing and dancing, it is so good for the soul.
WHERE DOES YOUR PASSION FOR FOOD AND COOKING COME FROM?
Oh, from so many different places. As far as I remember I have loved cooking for loved ones. I love the nurturing part of it, how it makes someone feel to be cooked for. When I was growing up in the countryside in Ireland my mum and sisters would bake for the week ahead every Saturday morning. I loved sitting on the worktop and watching and tasting; I can still smell the wonderful aroma in that kitchen.
From the age of 13 I spent summers with a French family in France. The mother Paulette was a wonderful cook, and I loved watching and helping her every day. It was all so exotic to me – the gratins, casseroles, soups, salads and the trips in the morning to the boulangerie.
I went on to train as a chef in Ballymaloe when I was 23 for a few years. Ballymaloe is a cookery school situated in an organic sustainable farm. That is where my everlasting love of cooking and connection to the soil started. I then went on to live in Italy and I worked for Slow Food, which was an incredible food culture and an immersive experience.
WHAT INGREDIENTS DO YOU CONSIDER STAPLES – THINGS YOU ALWAYS HAVE IN YOUR CUPBOARDS/FRIDGE?
Irish salted butter, very good quality olive oil (Léoube!), Dijon mustard, honey from our bees, eggs from our hens, flours, yoghurt, organic milk, dried chillies, crème fraiche, dried oregano, pastas, wild rice, cannellini beans, almond butter, sea salt, black peppercorns – I could go on and on!
WHERE DO YOU GET INSPIRATION FOR NEW RECIPES?
Mainly from my vegetable and fruit garden. I love cooking with the seasons and being as sustainable as possible, so I will cook with whatever I have growing and what needs to be used up.
I have to create new recipes every week for my cookery segment on ITV This Morning, so I find inspiration for those recipes in newspapers, magazines, Instagram, travel and I am always trying new restaurants where I will be inspired to recreate a version of a dish that I love.
HOW DO YOU HANDLE THE EARLY STARTS WITH THIS MORNING AND HOW DO YOU MAINTAIN BALANCE WITH A DEMANDING JOB?
I am very disciplined, I truly believe that discipline gives you freedom, the freedom to achieve what you want in life. I go to bed very early every night, at about 9pm, and I wake very early at 6am. I love being up before the sun rises or just as it's rising, so the early starts are not a problem for me. I love the morning.
My work and life are all one thing. I am so passionate about my work, our farm, sustainability, my local farm shop: it is our life.
I do put in time to help myself handle the pressure of work – I meditate every day at least once, sometimes twice. I do a big walk every day with my husband Harry and our dogs and I try and do a cardio exercise every day. I also never work after 5.30pm (or rarely). I have a candlelit bath every evening at 6pm, followed by a light supper and a glass of wine. And then I am off to bed with a herbal tea.
Clodagh McKenna will be serving Clodagh's Soda Bread at her Summer Solstice Banquet on the evening of Saturday 17th June at the Summer Festival at Daylesford. Find out more and book your tickets here.