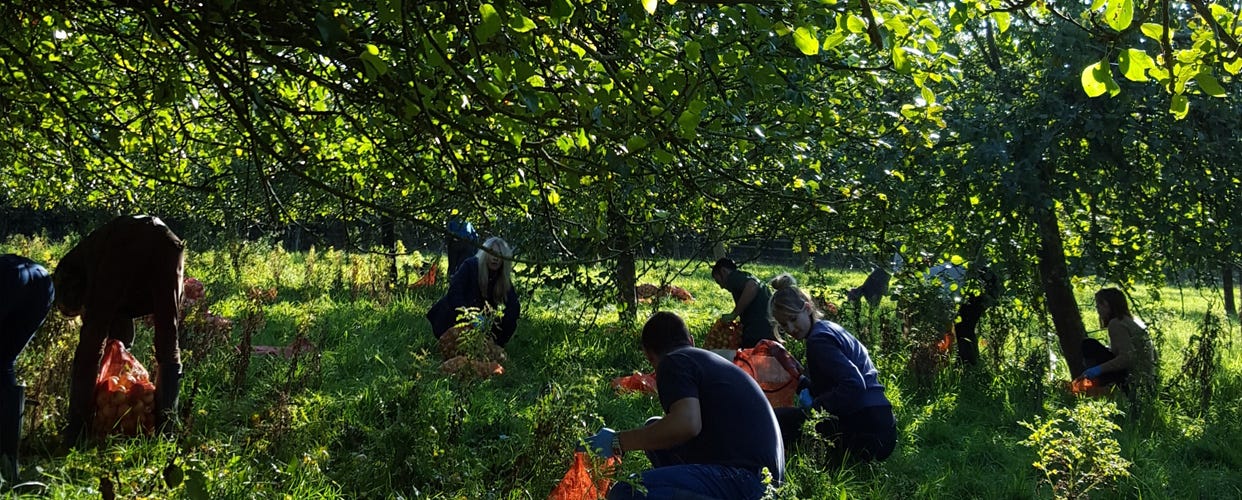 Future Foodies internships at Daylesford
At Daylesford we put our food and our people first. Our team is made up of food lovers, passionate about what they do each day. In order to attract and nurture the next generation of people who share our love for food, we recently launched a year-long internship programme, Future Foodies, with the hope that graduates will one day join the Daylesford team as a valuable asset.
Our Head of Food at Daylesford, John Hardwick, said: "for Future Foodies, we look for people with the right attitude who embrace all that we have to offer at Daylesford, which is so diverse and special that only we can offer it all under one roof!"
Over the 12 month programme, Future Foodies interns learn how to make Daylesford's award-winning artisan cheese and slow fermented sourdough breads, gain experience working in our organic Market Garden on the farm to see firsthand how the seasonal crops are grown, how they should be handled – and of course how they taste!
Time is also spent in our Black Barn facility, where our "real meals" are produced by hand on the farm, to learn about scaling up simple recipes so our customers can enjoy our food in their homes with ease.
Our interns also learn how to cook the Daylesford way in our Cookery School, with a focus on the best organic food in season and simple, good, real food.
Everything our interns learn is put into practice in all areas of the farmshop kitchen.
The first person to complete the programme was Josh Obadan. In his Future Foodies interview he was very shy, softly spoken and lacking in confidence. Although he said he wanted to become a chef, his knowledge was minimal.
John thought that Josh would be a true test of the programme and was keen to see if in one year, the internship could turn him into a real "foodie" with a real depth of knowledge who could talk assuredly about food.
Sure enough, Josh absorbed information like a sponge and excelled in every area. His confidence grew: before long he could rattle off what crops were available in any given season, as well as naming specific varieties. Josh also became comfortable speaking with customers – a remarkable development from the timid character at the interview.
Much to the whole team's delight, Josh is now working full time in the farmshop where he is continuing his journey to become a truly great chef. Josh is also offering support to his successor in the internship programme.
Josh said: "As soon as I arrived at Daylesford there was a sense of care and passion about all things food, which has influenced me and fuelled my desire to learn.
"Prior to my placement, I had no understanding of the dedication and time that goes into producing the ingredients that I used at previous work placements and during my time at college. However, with this opportunity to work firsthand with producers, I have a newfound respect for and knowledge of fresh ingredients.
"Working alongside Eric and his team in the Bakery, I was able to understand the artisanal skill that goes into producing the multitude of viennoiserie and bread by hand.
Working with Jez, the head of the Market Garden and his very knowledgeable and nurturing team, I was able to absorb an ample amount of information on seasonal ingredients and how to use them in dishes. Every day was as enjoyable as it was educational. It felt that there was a whole new side to cooking that I was previously unaware of and the Market Garden was able to give me an insight into this world. Seeing ingredients in different stages of their lives and exploring how they could be used in different ways is very thought-provoking as a young chef.
"In the Creamery, learning about the minor alterations in the production of cheese, measuring the acidity of the curd and ensuring the curd was an appropriate size for the press showed me the experience and pride that is devoted to producing the finest possible product. I helped with the different maturing processes of the cheeses, such as regular turning of the cheddar to ensure a balanced flavour throughout the product. I found the piercing process of blue cheese very interesting: you have to pierce the blue cheese to ensure the mould can manifest within the cheese and has sufficient airflow. This goes to show how the internship has demonstrated to me the responsibilities and requirements that go into producing an ingredient that I previously would not have encountered.
"In conclusion, the sheer amount of expertise I have witnessed over the course of my one-year internship is truly invaluable. I've learnt far more than I possibly imagined and I am confident there is so much more to learn as I go into the next chapter of my life at Daylesford. I've noticed that my confidence in cooking has improved and I feel as if my experiences mean I can offer insight into seasonal food and the message of organic farming."
If you or someone you know would benefit from our internship programme at Daylesford, please contact Joel Stevens by emailing JOEL.STEVENS@DAYLESFORD.COM. Experience is not necessary, but a great attitude is essential.