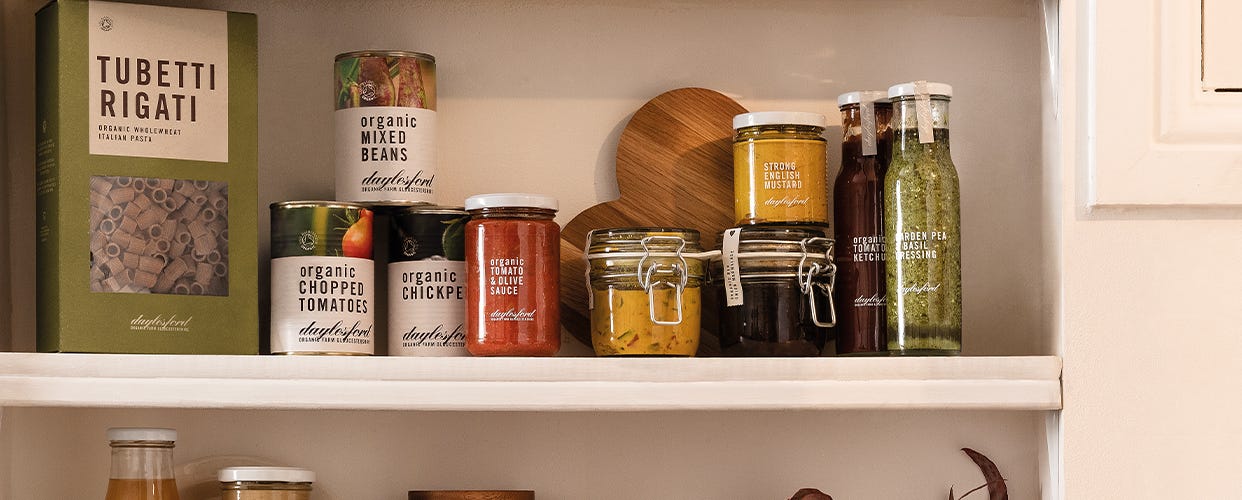 Packaging: progress and improvements
For the past 40 years, we have been striving towards sustainability at Daylesford. Everything we do, whether on our organic farm or in our farmshops and cafés, is with this core value in mind, for the benefit of our environment, our soil and our future.
As part of our sustainability goals, our approach to packaging is fairly straightforward. Above all, we seek to reduce packaging across all areas of our farmshops and cafés. Where possible, we choose reusable packaging and prefer recyclable or renewable materials such as glass, metal, wood, card and paper. We choose materials that are already recycled, or those that can be recycled or composted. Absolutely everything must be GM-free in line with Soil Association organic standards and our own passion for farming as nature intended.
If plastic must be used for food safety and quality reasons, we select the ones with the best life cycle credentials. Meanwhile, we are exploring all possible sustainable alternatives to single-use plastics with a view to removing it completely.
We are always learning, improving, challenging, and pushing the boundaries a little more. While our goals have always been ambitious, small changes can have a big impact and here are some of the most notable improvements we have made in the past year:
GLASS JARS & BOTTLES
We use glass containers for many of our food and drink items at Daylesford. Glass is reusable, easily and endlessly recyclable, can be melted down to make new glass products over and over again. Our glass jars and bottles already contain 25–50% recycled glass.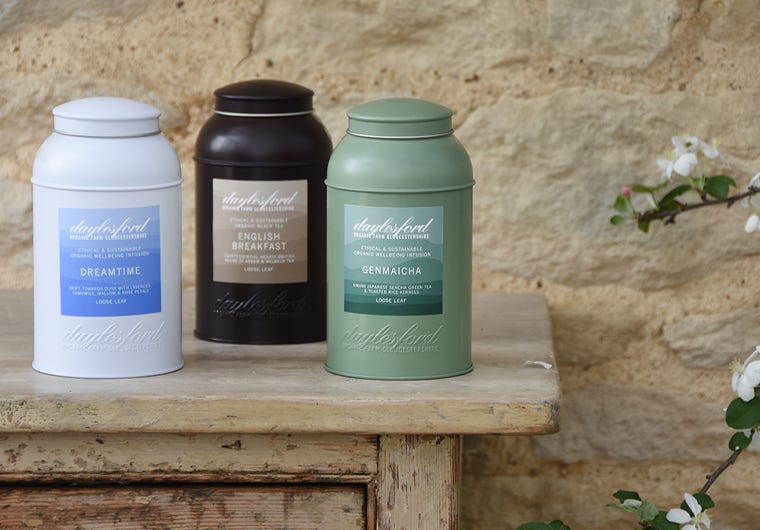 TEA CADDIES
Made of tin, these caddies are reusable and can be recycled infinitely without loss of quality. They are also excellent for repurposing, making useful containers for your pantry shelves.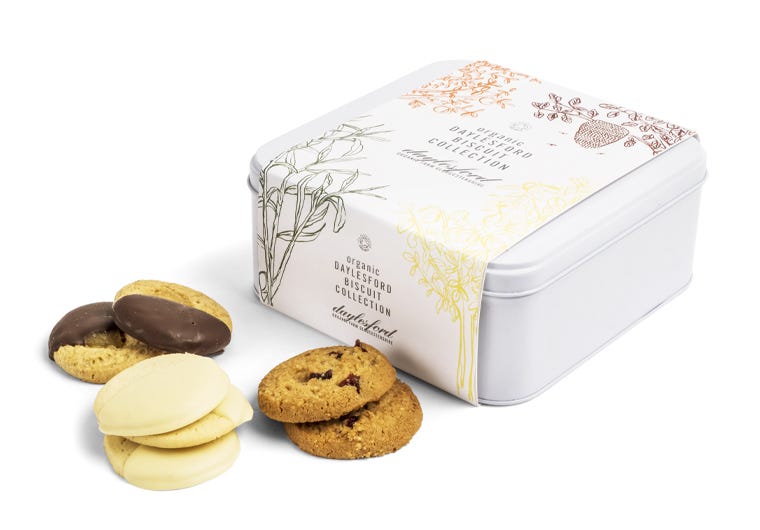 BISCUIT TINS
Our sustainable, collectible tins can be used as stylish storage for years to come; look out for limited editions featuring illustrations by some our favourite artists. Our savoury biscuit tins are now wrapped in tissue paper instead of single-use plastic.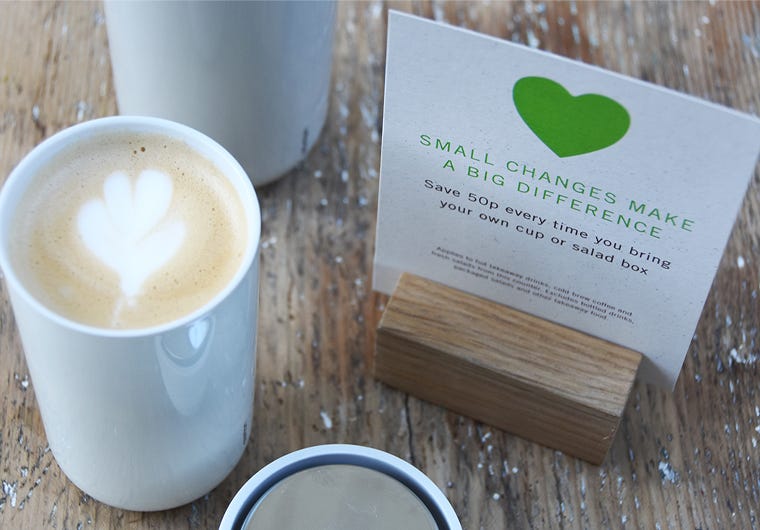 COFFEE CUPS
Anyone who brings a reusable cup or container to Daylesford is rewarded with 50p off their hot drink or food-to-go item, an initiative to encourage our customers to use less single-use packaging. We were also determined to provide a more environmentally sound option for people who forget their reusable cups, so sourced bagasse lids made from sugar cane, a fully compostable material.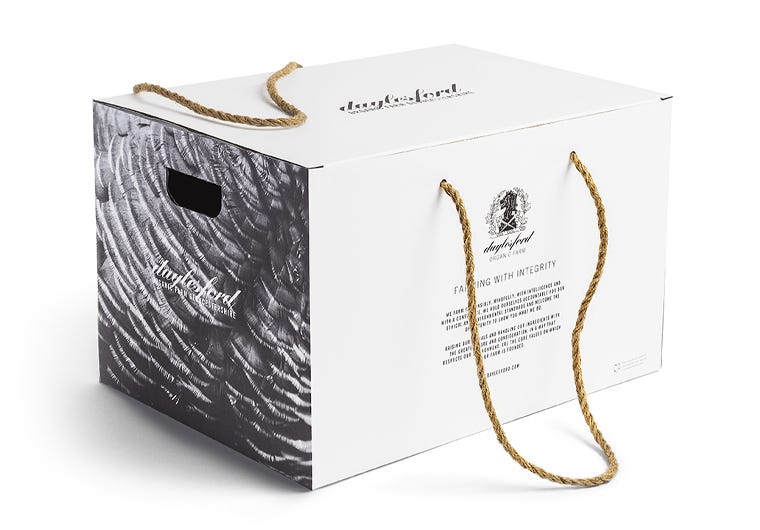 RECYCLABLE TURKEY BOXES
Previously, the boxes we used for our organic bronze turkeys were laminated to provide enough strength to support the heavy table birds, meaning it was not possible to recycle them. So we tried a new coating plus an extra layer of cardboard which worked perfectly – and means the boxes are now totally recyclable.
WHEAT STRAWS
Earlier this year we switched to using completely natural, biodegradable straws at Daylesford. Made from wheat stalks, they are plant-based, non-toxic, plastic free, food safe and will not pollute our environment like conventional straws.
PACKAGING INNOVATION
We have started using 100% compostable cellulose in every element of our bakery packaging, from the paper to the plastic window and the glue that holds it together. We have already used 10,000 fewer single-use cellophane plastic bags and will roll this packaging innovation out to more products in the future.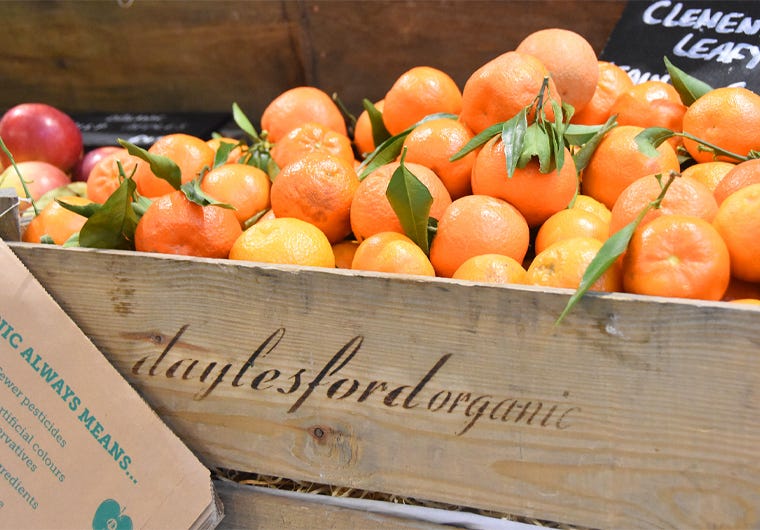 NATURE'S PACKAGING
We have never given out plastic carrier bags at Daylesford and all of our fruit and vegetables, apart from salad leaves which must be sealed for freshness, are completely plastic free. Instead we pile them high in wooden crates, wrapped only in their natural skins, leaves and rinds.