Three Ways with Asparagus
OUR BEST ASPARAGUS RECIPES
A quintessentially English ingredient, the season for asparagus is all too brief. To make the most of it we asked our Cookery School team to share three of their favourite asparagus recipes.
While the three asparagus recipes below take this singular crop to the next level, do remember that fresh asparagus spears are utterly delicious prepared simply:
boil in salted water until tender (this should take 3-5 minutes depending on their thickness and size), then drizzle over some melted butter and a few flakes of sea salt
add a poached egg on top; our Blue Legbar eggs are full of flavour and omega3
enjoy with a dollop of hollandaise sauce
serve with a soft-boiled egg and use the asparagus spears as soldiers for dipping
Did you know, asparagus spears are the young shoots of a cultivated lily plant. Asparagus contains more folic acid than any other vegetable and is also a source of fibre, potassium and vitamins A and C.
Read on for our top asparagus recipe choices from our Cookery School. For even more asparagus inspiration, browse our recipes.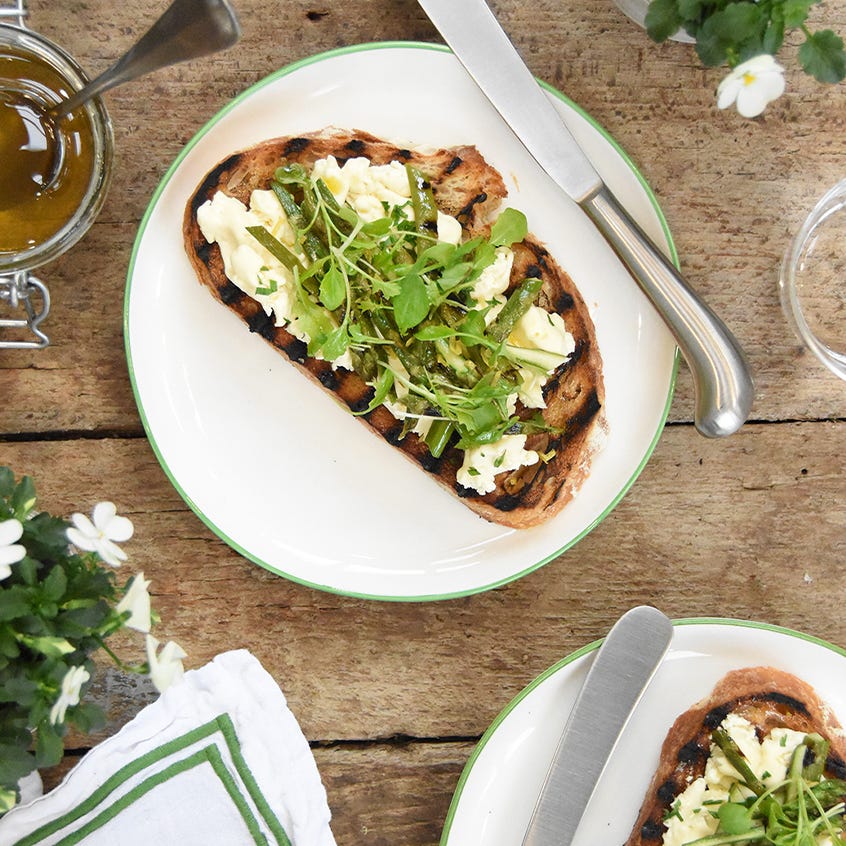 TARTINE OF ASPARAGUS WITH FRESH CHEESE AND HONEY
A quick, easy and utterly delicious option for lunch or supper, this simple tartine features not only delicious asparagus but our Daylesford soft cheese too. Light and creamy, our soft cheese is made right here on the farm.
Serves 2
2 slices of organic sourdough
1 tsp olive oil
2 asparagus spears
130g fresh soft cheese
drizzle of honey
handful of roughly chopped herbs, such as parsley, chives or mint
Preheat the oven to 180°C and place a griddle pan over a high heat.
Cut two thick slices of sourdough and rub on both sides with the olive oil. Place on the hot griddle and grill until you have clearly defined char lines. Turn over and repeat on the other side.
While the sourdough is toasting, bring a pan of salted water to the boil. Snap off the woody ends from the asparagus and cook in the salted water for 2–4 minutes, until tender, then plunge into a bowl of ice cold water. When cool, drain well and slice into matchsticks each around 5cm long.
Spread the soft cheese over the toast, arrange the asparagus matchsticks over the top and drizzle with the honey. Place on a baking tray in the oven for 5–8 minutes to warm through.
Serve each tartine onto a plate, season with salt and pepper and scattered with the fresh herbs. Enjoy!
ASPARAGUS, QUAILS EGG AND ANCHOVY TOASTS
These simple toasts are ideal as a canapé because each ingredient from the crispy toasts to the soft-boiled quail's eggs to the asparagus can each be prepared in advance, meaning assembly just before you serve is a quick and easy affair.
Serves 2
12 very thin slices of organic baguette or rye bread
2 tsp olive oil
4 asparagus spears, woody ends removed
12 quail's eggs
6 anchovy fillets
Preheat the oven to 180°C.
Brush each side of the bread with olive oil and lay flat on a lined baking tray. Bake in the oven for 8–10 minutes, flipping them over as they begin to turn golden brown.
Bring a pan of water to a simmer, and have ready 2 medium-sized bowls, one with ice-cold water and one a mixture of cold water, ice and a splash of vinegar. Blanch the asparagus spears for 3 minutes in the simmering water, remove with a slotted spoon and plunge them straight into the bowl of ice-cold water.
Using the same pan, gently lower the quail's eggs into the simmering water and cook for 2 minutes before immediately removing them with the slotted spoon and plunging them into the bowl with the vinegar. Leave to sit for 15–20 minutes as this will make the eggs easier to peel once cooked.
Meanwhile, slice the asparagus on an angle into bite-sized pieces and halve the anchovy fillets, again on an angle. Peel the quail's eggs and cut them in half lengthways.
To serve, place two egg halves on of each piece of toast, then top with the anchovy, asparagus and chive.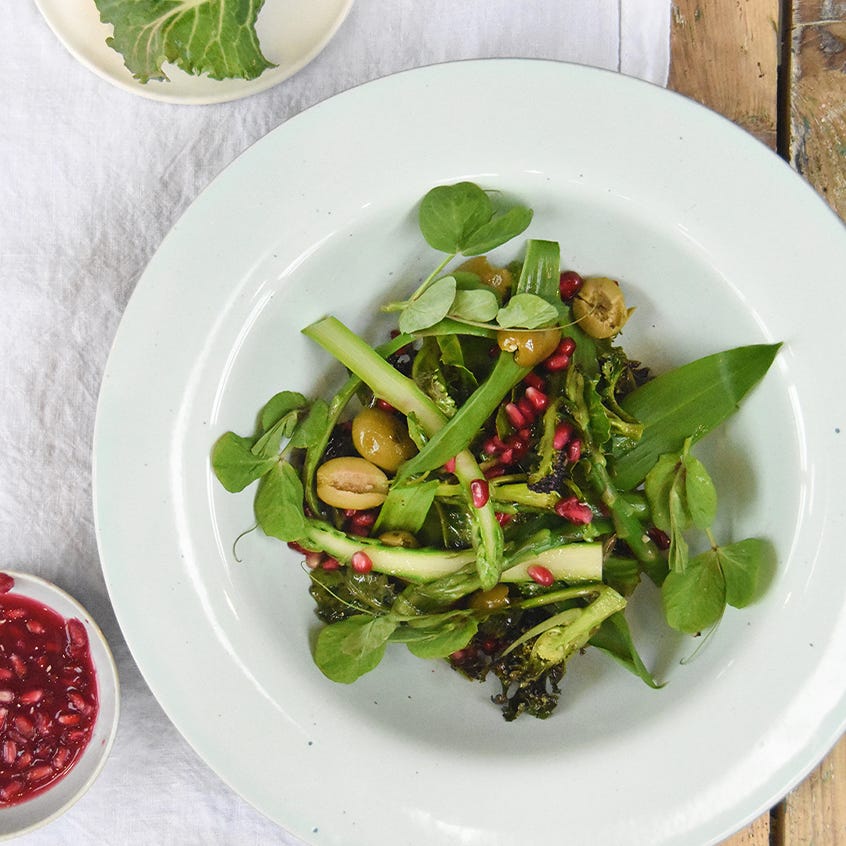 ASPARAGUS, WILD GARLIC & SPROUTING BROCCOLI SALAD
Light and fresh but with the punchy flavours of wild garlic, charred asparagus and delicious olives, this dish is quick to throw together and truly delivers on flavour.
Serves 2
6 asparagus spears, woody ends removed
6 sprouting broccoli spears
4 tbsp olive oil, plus an extra tsp for cooking
1 tsp Dijon mustard
1 tsp apple cider vinegar
2 tbsp pomegranate seeds
handful of wild garlic leaves
handful of olives, pitted and halved
Heat a griddle over a high heat.
Toss the asparagus and sprouting broccoli in about 1 tsp of olive oil and a little salt until each spear is evenly and lightly coated. Place on the griddle and cook for 1–2 minutes until they start to blacken. Turn over and repeat. Once blackened on all sides and just tender, remove and set aside.
To make the dressing, mix together the 4 tbsp of olive oil, the mustard and cider vinegar until you have the right balance of flavours – adding a splash of lemon or pinch of salt should you wish.
Cut a pomegranate in half, hold it over a bowl and tap the top with a wooden spoon to release the seeds into the bowl.
Slice the asparagus and sprouting broccoli on an angle and put into a bowl with the dressing. Add the wild garlic and toss everything together until the wild garlic leaves just begin to wilt a little. Divide the greens between two bowls and scatter over the 2 tbsp of pomegranate and olives and serve.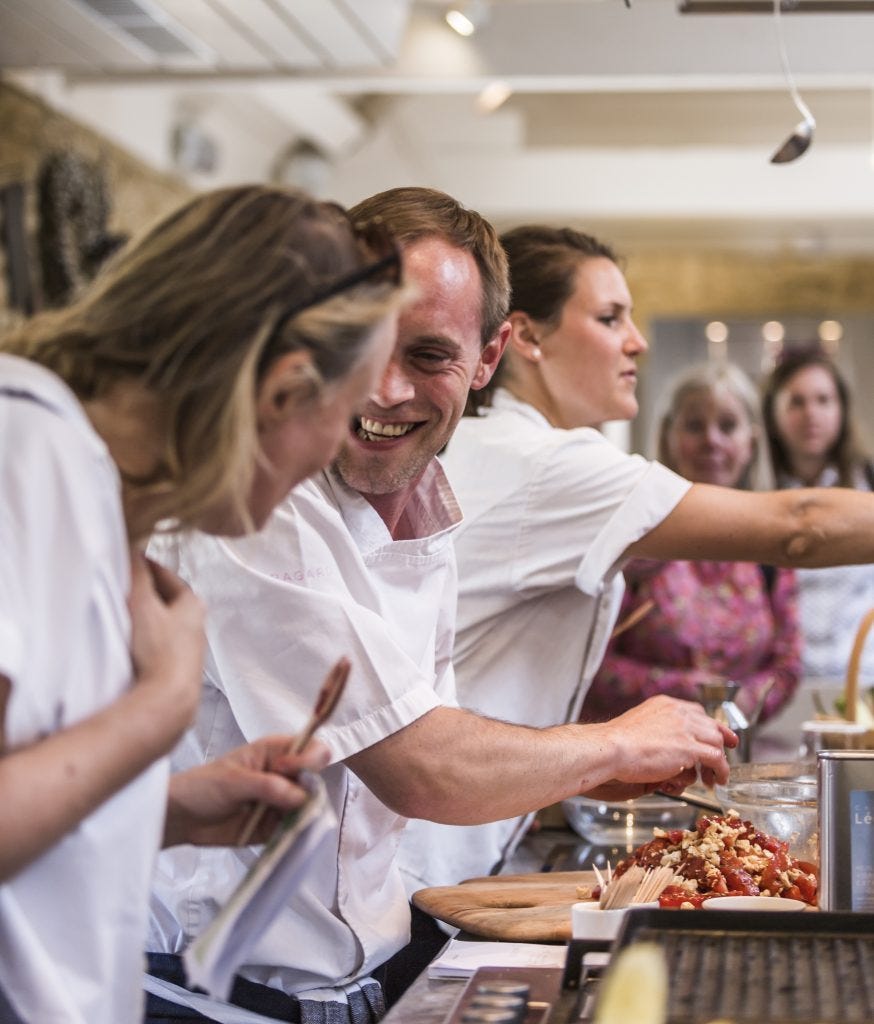 DISCOVER MORE AT OUR COOKERY SCHOOL
Join our team of passionate and inspiring Tutors for an upcoming course and learn new skills, recipes and plenty of culinary tips and tricks!