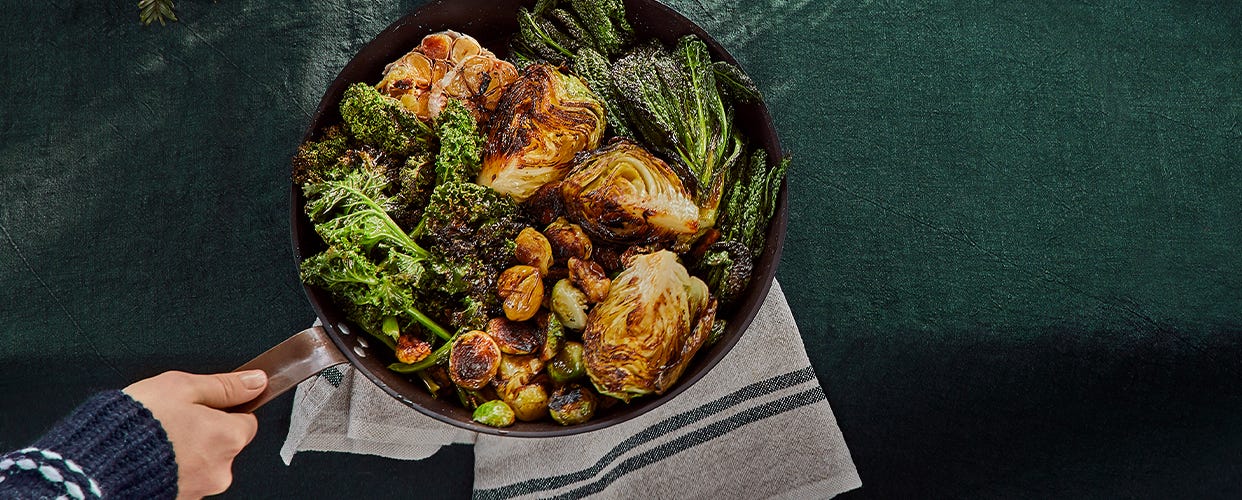 Three Ways With Brussels Sprouts
Brussels sprouts…which camp are you in?
At our Cookery School we wholeheartedly love Brussels sprouts, perhaps because we so enjoy dreaming up new and innovative ways to celebrate them. Scoring the base and over-boiling Brussels sprouts on Christmas day is not the goal; with a little care and an inventive approach, these seasonal greens can be simply delicious. Here are three of our favourite Brussels sprouts recipes to try.
CREAMED BRUSSELS SPROUTS
This is a really indulgent recipe, perfect for Christmas Day and warming suppers on cold winter evenings. It's also great for entertaining because you can prepare it in advance and simply popping in the oven to finish when your guests arrive.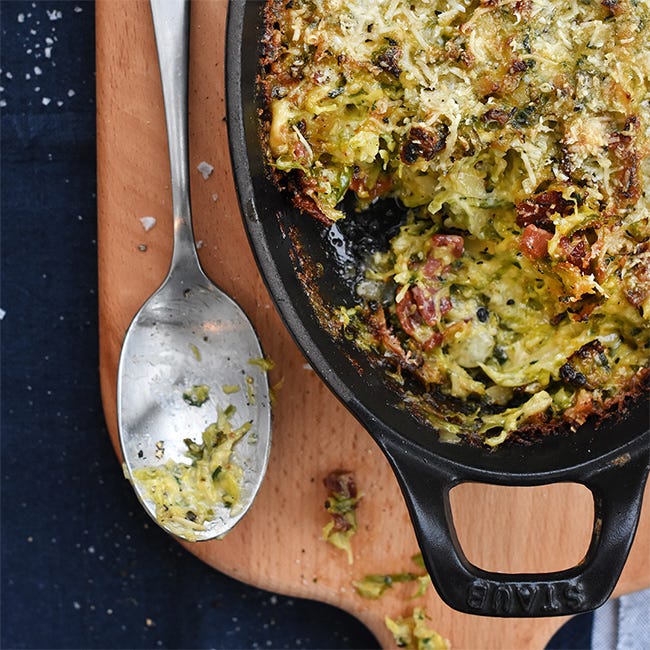 Serves 4 as a side dish
2 rashers streaky bacon
30g butter
220g Brussels sprouts, washed and finely shredded
1 clove garlic, finely chopped
1 tbsp chopped parsley
80ml double cream
Squeeze of lemon juice
Handful of grated parmesan
Method
Preheat the oven to 220ºC.
Slice the bacon into thin strips and fry in a small pan until crisp and golden. Tip out onto kitchen paper and keep to one side.
Melt the butter in a frying pan or small saucepan and once foaming, tip in the shredded Brussels sprouts (we find that using a mandolin is the most effective way to finely spread the sprouts, however a good knife will work too). Cook over a moderate heat for 2 minutes, stirring frequently, before adding the garlic, parsley and some salt and pepper. Turn the heat down slightly and continue to cook for 8-10 minutes until the sprouts have wilted and softened.
Pour in the double cream and turn the heat up until the cream starts to bubble. Cook for 2-3 minutes until the cream has reduced and thickened. Stir the crispy bacon through the mixture, add a little lemon juice to taste and then tip into a small gratin dish.
Top with the grated parmesan and bake at the top of the oven for 10 minutes or until the top of the gratin is golden.
---
WINTER SPROUT SLAW
This slaw is a wonderful way to make use of seasonal winter vegetables, turning them into a colourful raw salad that is packed with nutritional value. We love to serve this as an accompaniment to festive platters of cold meat and baked potatoes. It is also a fantastic recipe to have up your sleeve when entertaining guests over Christmas as you can prepare it completely in advance. If you can't find candy or golden beetroot, traditional ruby red will work beautifully and do add your own favourite raw vegetables such as carrots or cabbage to make the recipe your own.
Serves 4 - 6
FOR THE SLAW
50g walnuts
3 tsp nigella seeds
200g Brussels sprouts, shredded
1 golden beetroot
1 candy beetroot
2 large shallots or 1 medium onion, peeled
1 apple, quartered and cored
½ bulb fennel
Chopped parsley, large handful
FOR THE DRESSING
1 egg yolk
1tsp wholegrain mustard
1tsp tsp honey
50ml rapeseed oil
50ml extra virgin olive oil
Squeeze lemon juice
2 tbsp natural yoghurt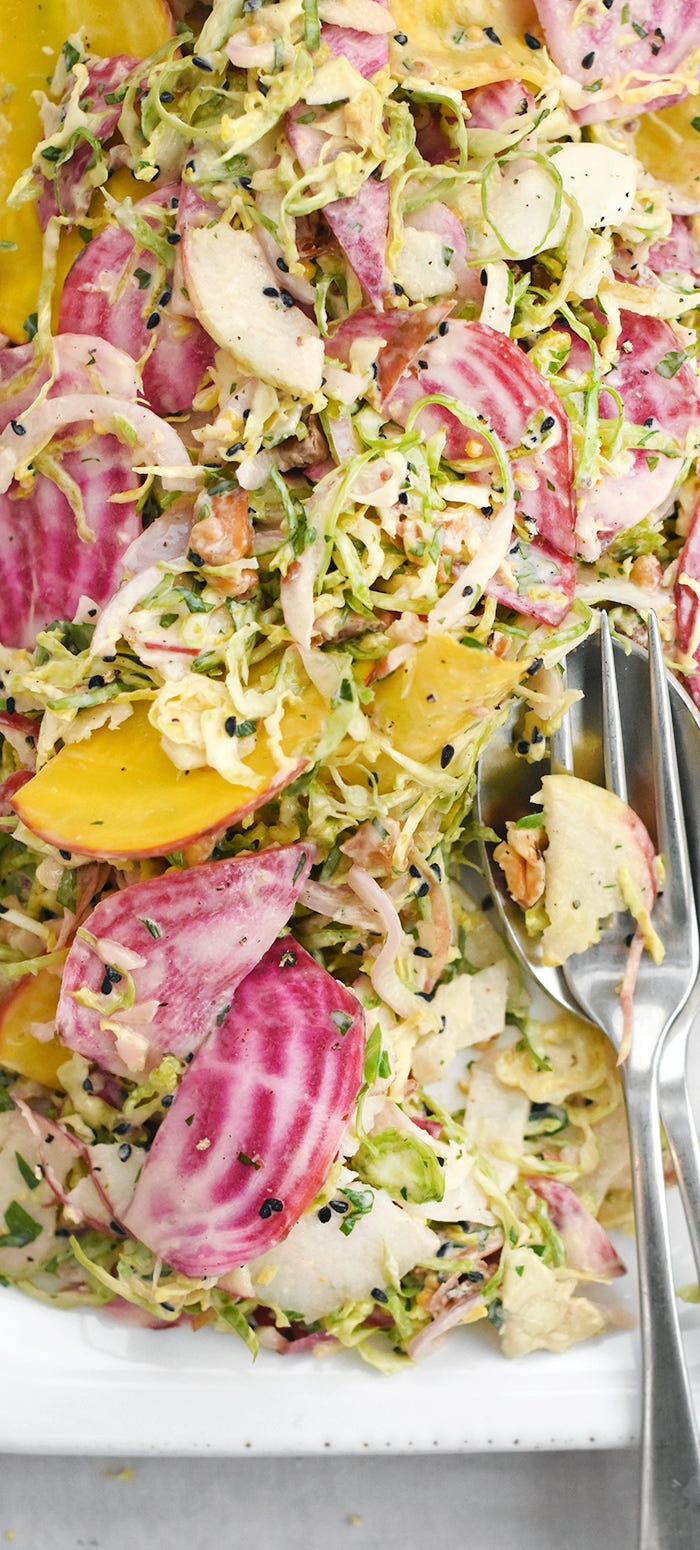 Method
Preheat the oven to 180ºC
Spread the walnuts on a baking tray and toast in the oven for 8-10 minutes until golden. Remove from the oven and once cool enough to handle, roughly crumble them into small pieces with your hands.
In a small frying pan, toast the nigella seeds over a moderate heat until they just begin to smoke and release their aroma. Remove from the heat and keep to one side.
Using a mandolin, slice the sprouts finely, discarding the ends. Wash the beetroot and thinly slice and repeat with the shallots (or onion), apple and fennel. Combine all of the shredded vegetables in a large bowl and toss together.
To make the dressing, place the egg yolk in a small bowl with the mustard, honey and a pinch of salt and pepper. Gradually whisk in the rapeseed and olive oil, whisking all of the time, until all of the oil has been incorporated and you have a thick sauce. Stir in the lemon juice, followed by the yoghurt and taste to check the seasoning.
Pour the dressing over the vegetables, adding the crumbled walnuts, nigella seeds and parsley as well as a good twist of black pepper and some sea salt. Mix everything together well with your hands, making sure the vegetables are evenly coated in the dressing.
Tip into a serving dish, topping with some more crumbled walnuts and parsley if you like.
---
RUSSEL SPROUT, CHARD & WATERCRESS SOCCA TART
Socca is a chickpea flour that is entirely gluten free. You can top socca tarts with all manner of seasonal ingredients, pestos and dressings but here we have opted for a delicious mixture of Brussels sprouts, watercress and soft, creamy goats or ewes cheese.
Serves 2 - 3
FOR THE SOCCA TART
200g gram flour (chickpea flour)
1 tsp ground caraway seeds
Salt and pepper
2 tbsp olive oil
200ml water
FOR THE WATERCRESS OIL:
40g watercress leaves
1 clove garlic
50ML OLIVE OIL
a squeeze of lemon juice
salt and pepper
FOR THE SPROUT TOPPING
200g Brussels spouts
2 shallots, finely sliced
75g chard or kale leaves
30G hazelnuts, toasted
Squeeze of lemon juice
30g soft goat's or ewe's cheese
Method
Begin by making the socca tart batter. Tip the gram flour into a mixing bowl with the ground caraway seeds, a little salt and pepper and the olive oil. Add the water and whisk to a smooth consistency, beating out any lumps. Leave to one side for 20-30 minutes to thicken slightly whilst you make the topping.
To make the watercress oil simply combine the watercress leaves, garlic, olive oil and lemon juice in a small blender and blend to a smooth, bright green sauce. Add a little salt and pepper to taste and keep to one side.
Slice each sprout into quarters or sixths, depending on the size of the sprout, discarding the ends. Heat a little oil in a deep frying pan and add the sliced shallots, frying until softened and slightly golden. Add the sliced sprouts with a splash of water and continue to cook over a moderate heat for 8-10 minutes, tossing frequently, until the sprouts are tender. Shred the wilted chard into ribbons and add to the sprouts, stirring to combine. Season with plenty of salt, pepper and lemon juice.
To make the socca tart base, heat a little oil in a frying pan or skillet and once hot, add a ladleful of the batter letting it spread out to form a thick pancake. Cook for a 2 minutes, or until small bubbles appear on the surface of the batter and the underside is lightly golden. Flip the pancake over and cook for a minute on the other side. Make another 3 pancakes in the same way with the rest of the batter.
To serve, return the sprouts to the heat to ensure its piping hot. Stir through the crumbled hazelnuts and then pile the vegetables onto each tart base. Crumble a little goat's cheese onto each and then finish with a drizzle of watercress oil and sprinkling of salt and pepper.
---