COTSWOLDS
STAY WITH US
STAY IN ONE OF OUR BEAUTIFUL COTTAGES OR PUB ROOMS IN DAYLESFORD AND KINGHAM


LOCATIONS
Daylesford Farm | Daylesford Village | Lower Oddington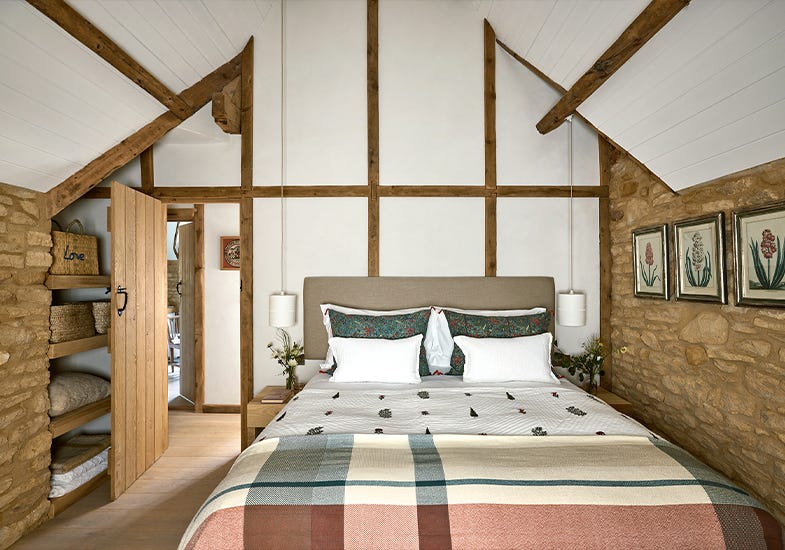 DAYLESFORD FARM COTTAGES
Situated in the Cotswold Area of Outstanding Natural Beauty, our Daylesford Farm cottages are the perfect destination for anyone looking to reconnect with nature and an idyllic place for a countryside escape.
Less than a five-minute drive or a brisk 25 minute walk from The Wild Rabbit, the self-catered and dog-friendly cottages are next to the Daylesford Organic farmshop, with its award-winning restaurants and the Bamford Wellness Spa. As part of your stay you will receive a luxurious welcome pack with fresh organic produce from the farm and your choice of a holistic class at the Wellness Spa.
Cottages range in size from one to three bedrooms.
DAYLESFORD VILLAGE COTTAGES
Our hamlet of Cotswold cottages is nestled in the 2,500 acre Daylesford Estate, surrounded by picturesque Gloucestershire countryside.
The cottages, village hall, schoolhouse and church were rebuilt in 1868 by Harman Grisewood for his tenants. Constructed in local stone, the buildings are architecturally decorative, heavily influenced by the Tudor Gothic style. Just a stone's throw away from Daylesford Organic Farm, the cottages overlook the rolling hills of the estate.
Each self-contained cottage is individually furnished, retaining its own distinct character.
Cottages range in size from one to four bedrooms.
KINGHAM VILLAGE COTTAGES
Our beautiful Cotswold cottages are located a short walk away from The Wild Rabbit, in the quiet village of Kingham, and are all individually furnished as a home-away-from-home.
Each self-catering cottage is unique, with fully equipped kitchens and sitting rooms with open fires or log burning stoves.
Cottages range in size from one to five bedrooms.
THE WILD RABBIT
The Wild Rabbit is a modern British inn – a place to eat, drink and sleep.
Set in the heart of the Cotswolds, we serve locally sourced, seasonal food in a relaxed and welcoming setting.
THE FOX
The Fox is a village pub with crackling log fires and a welcoming bar specialising in local beers and cocktails. The menu celebrates local producers including our sister farms at Daylesford Organic and Wootton.
Bedroom interiors are inspired by the surrounding countryside with a spacious Coachman's House opposite for larger groups.