After you have placed your order, you will receive an acknowledgement email followed by a dispatch confirmation email with your invoice attached.
If an item is out of stock or no longer available, we will contact you by email or telephone.
Please select your preferred delivery day and time during check-out. Next working day delivery is available if ordered before 12pm. We do not currently deliver on Sundays or Mondays. Delivery costs £6.95 for delivery before 6pm Tuesday-Friday and £10.95 for Saturday delivery.
We use DPD to deliver items ordered from Daylesford.com to addresses throughout mainland UK. Daylesford Organic Ltd and its employees cannot be held responsible for our chosen courier's failure to deliver to the specified time due to adverse weather conditions or other circumstances beyond our control, however we will make our best efforts to correct the problem.
DPD informs customers of a predicted one-hour delivery window by text or email as well as a tracking service to watch the progress of your delivery driver and options to deliver to neighbour, a safe place or a local pick up shop.
Orders containing both fresh produce and dry goods (packaged produce, condiments, tins and drinks) will be dispatched from separate locations, meaning you will receive two separate deliveries.
If we are unable to meet estimated dispatch dates because of exceptional circumstances, we will contact you via phone and email with a revised estimated dispatch date.
Please note, certain products we sell can only be purchased by people aged 18 years and over, such as alcoholic beverages. You may be asked to confirm your age with valid ID upon delivery. A signature is required at the point of receipt. Please contact DPD directly using the instructions sent in the dispatch confirmation email if you are unable to provide a signature.
---
You may return your item up to 14 days after receiving it, using the link provided in the dispatch confirmation email, by contacting Guest Services on 0800 083 1233 or emailing onlineshop@daylesford.com. We will endeavour to process refunds within 30 days and will refund you on the same payment method used to place your order.
For more details please see our Terms & Conditions.
For any further queries, contact onlineshop@daylesford.com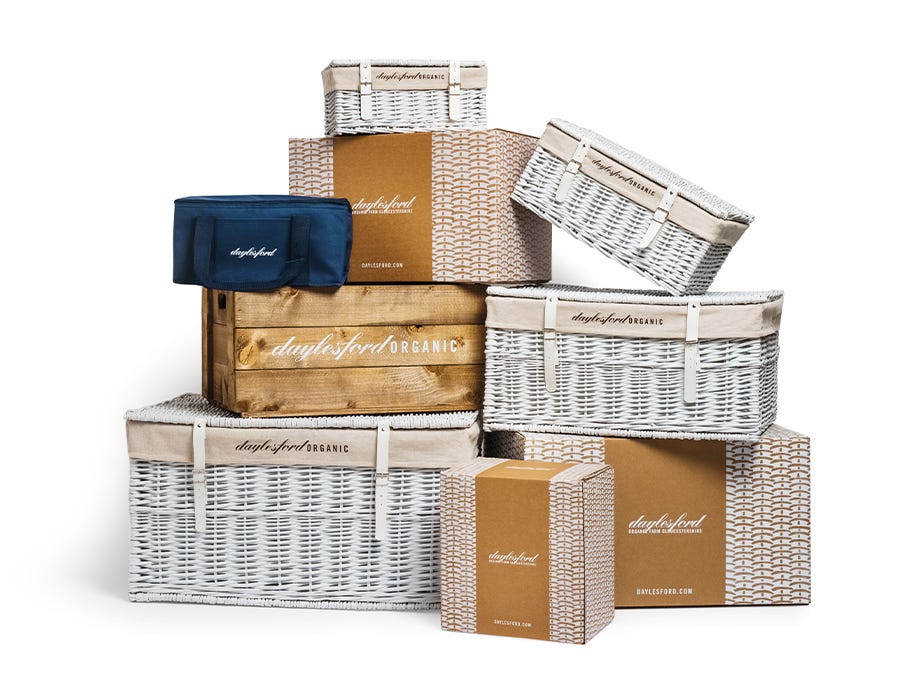 PACKAGED LIGHTLY
Since we opened our doors in 2002 we have never given away a plastic carrier bag and you have always been able to choose unpackaged produce. When packaging is needed, we choose materials that are likely to be recycled or reused.
Cardboard: 70% FSC-certified recycled, printed with water-based inks. Please recycle again. We have reduced the cardboard in our boxes by 40% this year.
Shredded wood: FSC-certified spruce from Britain and Sweden. Please dispose of with garden waste, compost or reuse as pet bedding and kindling.
Biodegradable loose fill: our hampers are packed with a light, residue-free, water-soluble and compostable filler made entirely from plants. Please dissolve in water or compost.
Sheep wool insulation: separate the fleece from the bags. The wool can be recycled with textiles, composted or reused in the garden in hanging baskets, protecting plants from frost and keeping slugs at bay. Please recycle paper bag. Plastic bags can be recycled with carrier bags and films.
Non-toxic gel packs: not currently recycled but reusable. Perfect for lunchboxes, picnics and first aid. Paper straps: replacing plastic with paper removes 25 miles of plastic from the planet every year. Sugar cane food trays and bowls: 100% recycled waste plant fibres, please recycle again. Plastic food tray lids: 100% recycled, please recycle again.
Drinking straws: innovative 100% wheat straw, please compost.