UK mainland addresses:
Tuesday - Saturday delivery before 6pm – £7
Please select your preferred delivery day and time during check out.
We can only ship ambient goods (i.e. items that don't have to be kept chilled) to the Channel Islands and Highlands & Islands and delivery will take two days to these locations.
Our courier is DPD. Daylesford Organic Ltd and its employees cannot be held responsible for our courier's failure to deliver to the specified time due to adverse weather conditions or other circumstances beyond our control. However, in these instances, we will make our best efforts to correct the problem.
DPD offer a 'predict' delivery service whereby they inform customers of a one-hour delivery window notified by SMS and/or email – so you don't have to wait in all day. Additionally, you can watch the progress of your delivery driver on a real-time map. If your plans change and you're not able to sign for your order, DPD offer a range of 'in flight' options such as delivering to a neighbour, leaving the parcel in a safe place, and collecting your parcel from a local shop.
Orders containing both fresh produce and dry goods (packaged produce, condiments, tins and drinks) will be dispatched from separate locations, meaning you will receive two separate deliveries. DPD will notify you of both deliveries using their 'predict' delivery service.
In the event that we are unable to meet estimated dispatch dates because of exceptional circumstances, we will contact you via phone and email with a revised estimated dispatch date.
Delivery Rates:
For UK mainland addresses, a single delivery of items will be charged at £7 for delivery before 6pm. Please note, due to the delivery being handled by a third party courier, we cannot guarantee delivery at a specified time. Daylesford Organic also cannot be held liable for failure to deliver due to circumstances beyond our control.
Delivery charges are for one delivery to any single mainland UK address. To follow up on an order delivery please contact the Personal Shopping Team:
Offshore Delivery:
If you are ordering to an offshore location, please contact our Personal Shopping Team to make your order on:
All offshore orders will take 2 working days to arrive. Please note that specific delivery times are not available to offshore locations. Fresh food is not available to purchase for these locations – ambient food and homeware only.
Offshore rates for Northern Ireland, Republic of Ireland, Channel Islands, Isle of Man, Scottish Highlands & Islands, Scilly Isles – £25
Receipt of Delivery:
CUSTOMERS WILL BE CONTACTED BY EMAIL AND TEXT MESSAGE FROM DPD TO ADVISE ON THEIR ESTIMATED DELIVERY TIME. ALL DELIVERIES REQUIRE A SIGNATURE AT THE POINT OF RECEIPT.
If you need to alter the address for delivery prior to dispatch, please contact:
Please note, for fresh food deliveries it is recommended that the package is delivered to an address where it can be received and signed for – products held in postal depots cannot be guaranteed to be refrigerated whilst being held. Daylesford Organic cannot be held responsible for food spoilage for parcels that have been received but not refrigerated upon receipt. We place advice stickers on our boxes, please advise the recipient to refrigerate contents if you are not receiving the delivery yourself.
International Delivery:
For international delivery queries, please contact our Personal Shopping Team and we will do everything we can to accommodate your order.
---
You may return your item up to 14 days after receiving it, using the link provided in the dispatch confirmation email, by contacting Guest Services on 0800 083 1233 or emailing onlineshop@daylesford.com. We will endeavour to process refunds within 30 days and will refund you on the same payment method used to place your order.
For more details please see our Terms & Conditions.
For any further queries, contact onlineshop@daylesford.com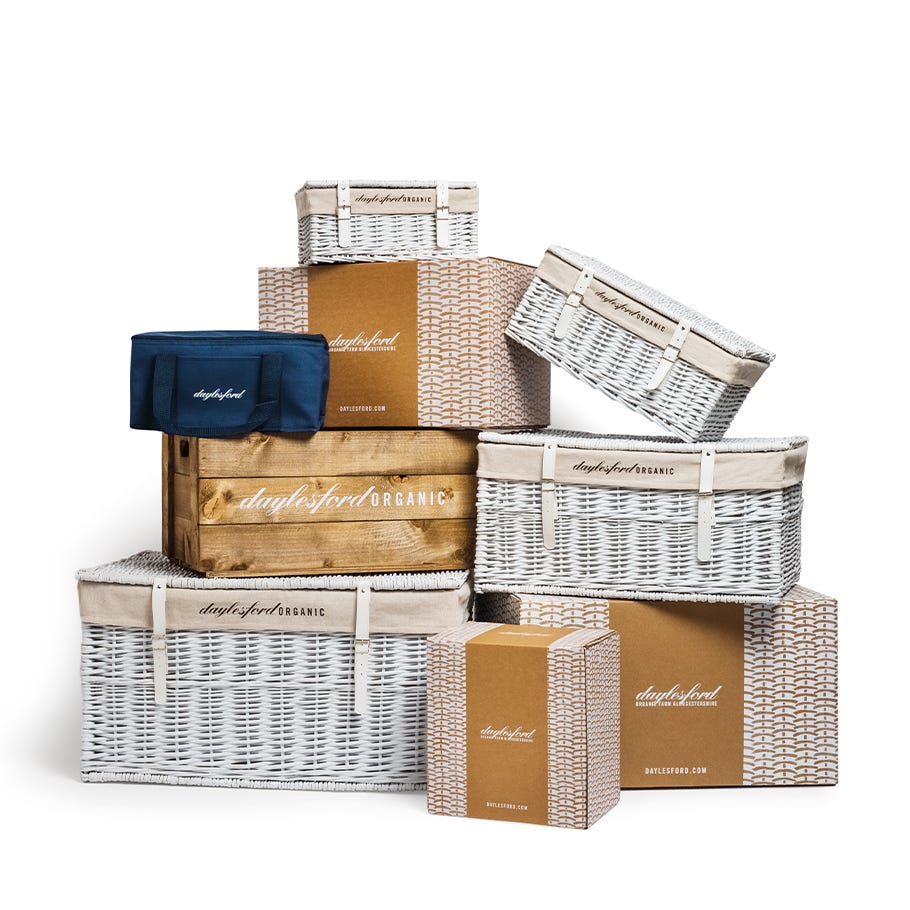 PACKAGED LIGHTLY
Since we opened our doors in 2002 we have never given away a plastic carrier bag and you have always been able to choose unpackaged produce. When packaging is needed, we choose materials that are likely to be recycled or reused.
Cardboard: up to 90% recycled, printed with water-based inks, we have reduced the cardboard in our boxes by 40% this year. Please recycle.
Shredded wood: spruce from Britain and Sweden. Please dispose of with garden waste, compost or reuse as pet bedding and kindling.
Biodegradable loose fill: our hampers are packed with a light, residue-free, water-soluble and compostable filler made entirely from plants. Please dissolve in water or compost.
Sheep wool insulation: separate fleece from bag, the wool can be recycled with textiles, composted or reused in the garden in hanging baskets, protecting plants from frost and keeping slugs at bay. Please recycle paper bag. Plastic bags can be recycled with carrier bags and films.
Non-toxic gel packs: not currently recycled but reusable. Perfect for lunchboxes, picnics and first aid.
Paper straps: replacing plastic with paper removes 25 miles of plastic from the planet every year, please recycle.
Sugar cane food trays and bowls: 100% recycled plant fibres, please recycle. Drinking straws: innovative 100% wheat straw, please compost.