COOKERY SCHOOL
OUR COURSES FOCUS ON REAL FOOD AND SIMPLE COOKING TECHNIQUES TO ENHANCE YOUR WELLBEING. WE ARE DEEPLY INSPIRED BY THE ORGANIC FARMLAND AROUND US AND ARE PROUD TO UPHOLD THE HIGHEST STANDARDS OF ETHICAL SUSTAINABILITY IN EVERYTHING WE DO.
Artisan Bread Making
14th Jul 2022 08:30am to 3:00pm - Cookery School
Daylesford's range of organic, award-winning artisan bread are something of which we're hugely proud of. We only use the best possible organic ingredients and traditional artisan methods to produce delicious breads of unique quality.
Journey Through Provence
22nd Jul 2022 08:30am to 3:00pm - Cookery School
Provencal cookery is rich with warm, summery flavours and recipes created with fresh, seasonal ingredients. We are lucky enough to have a glut of some of these wonderful vegetables and herbs in our organic Market Garden come summer, as well as delicious ingredients from our sister estate in the South of France, Château Léoube.
Fire Pit Cooking
16th Jul 2022 08:30am to 3:00pm - Cookery School
Perfect for barbecue enthusiasts and anyone who loves food and the great outdoors, this course offers an unforgettable experience at Daylesford.
LEARN WITH US
Let our Cookery School tutors change the way you cook forever. We offer a range of courses to suit all levels and interests, all of which focus on real food and simple cooking. Tour our organic Market Garden, taste the freshest, most flavourful ingredients picked straight from the soil, meet our heritage breeds and reconnect with the land as you learn valuable skills, recipes and artisan techniques.
RECIPES
Celebrating and sharing good food is a big part of what we do at Daylesford, so we have collected some of our favourite recipes into this online resource to inspire your cooking at home. Each one has been tried and tested by our experienced chefs, Cookery School Tutors or special guests, who are all passionate about using seasonal organic ingredients in delicious, nourishing ways. Browse according to the seasons, or search by mealtimes and specific occasions to find just the right dish to cook now.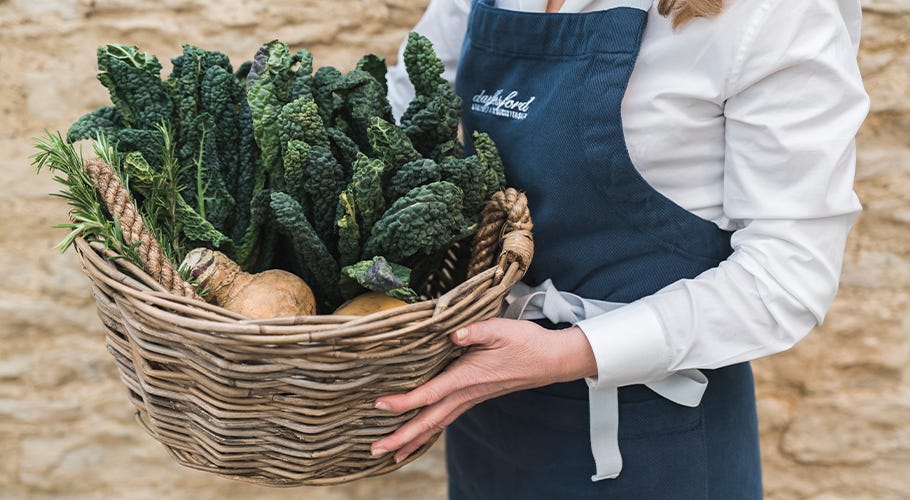 CONTACT US
The Daylesford Cookery School is located in the heart of the Cotswolds near Kingham, Gloucestershire.
Please contact us on 01608 731 620 or simply send us an email to thecookeryschool@daylesford.com