COOKERY SCHOOL
INSPIRED BY WHAT'S IN SEASON AND GROWING ON THE FARM, OUR COOKERY COURSES INVITE YOU TO MASTER YOUR CULINARY TECHNIQUES WHILE IMMERSING YOURSELF IN REAL FOOD AND THE NATURAL BEAUTY OF THE COTSWOLDS.
OCTOBER SPECIAL OFFER
20% off full-day cookery courses with code: FULLDAY20
10% off half-day cookery courses with code: HALFDAY10
If you have a Cookery School voucher with an expiry date before 15 June 2023 please call The Cookery School on 01608 731 620 or send an email to thecookeryschool@daylesford.com
Wild & Foraged
8th Oct 2022 08:30am to 3:00pm - Cookery School
Foraging is a traditional, age-old skill that we are passionate about at the Cookery School, offering the opportunity to harvest and eat the most delicious, seasonal ingredients from nature's larder for free.
Artisan Bread Making
7th Oct 2022 08:30am to 3:00pm - Cookery School
Daylesford's range of organic, award-winning artisan bread are something of which we're hugely proud of. We only use the best possible organic ingredients and traditional artisan methods to produce delicious breads of unique quality.
Game Preparation & Cooking
21st Oct 2022 08:30am to 3:00pm - Cookery School
We are lucky to have a bountiful larder on our doorstep and throughout the course of the day you will learn how to prepare venison and game birds caught on our Cotswolds and Staffordshire farms.
CHANGE THE WAY YOU COOK FOREVER
Discover how to grow and cook in tune with the seasons at our Cookery School. Whether you are a beginner wanting to learn new skills or a confident cook, our imaginative cookery courses and in-depth masterclasses will instruct and inspire. You might be exploring our market garden to taste the freshest, most flavourful ingredients picked straight from the soil, or meet our heritage breeds and reconnect with the land as you learn valuable skills, new recipes and artisan techniques.
RECIPES
There is nothing that feeds our souls more than gathering friends and family around the table, or cooking something satisfying simply for ourselves. Over the year we gather inspiration from our farm and kitchens to share recipes that reflect our commitment to seasonal, nutritious food that is full of flavour.
Fabulous Seasonal Dinner Party Course
"I absolutely loved the Seasonal Dinner Party course. Steve and James were both brilliant - the recipes were delicious and can definitely be tried at home. Their love of food and cooking is infectious! I would definitely do another course."
May 2022
Great Seasonal Dinner Party day!
"We spent a great day learning how to create a Seasonal Dinner Party along with various tips like knife skills and cooking techniques - James and James and their team were very informative, patient and relaxed and we came away with cookery confidence (and full tummies!)! It was lovely looking round the farm a little too! Thank you everyone!"
February 2022
The Perfect Evening!
"Excellent evening at the Daylesford Cookery School, where James, Ione and Sophie hosted our family dinner to celebrate Dad's 60th. Food was fabulous and great to see the chefs prepare it in front of us. Outstanding presentation and flavours, James really facilitated our enjoyment and was very engaging, explaining each dish and the paired wine, he's a master of his trade. I'd highly recommend the chefs table experience for anyone wanting to celebrate; a very memorable and lovely time. Thanks James, Ione and Sophie."
April 2022
Can't wait to come back
"I was finally able to do the Artisan Bread Course at Daylesford yesterday and it was so worth the wait!
I can't believe how much we made, how much we ate and drank and how much we learnt. James is so knowledgeable and I learnt so many new kneading techniques and tips about bread making. Just ordered myself many kilos of their preferred flour and can't wait to get on with some bread at home.
Honestly I would recommend their courses to anyone. It's a highly enjoyable day and I can't wait to book another."
February 2022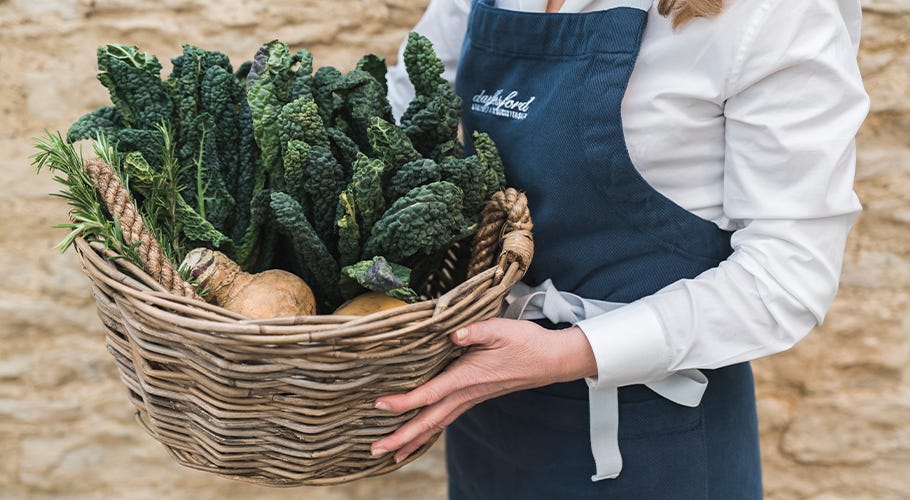 CONTACT US
The Daylesford Cookery School is located in the heart of the Cotswolds near Kingham, Gloucestershire.