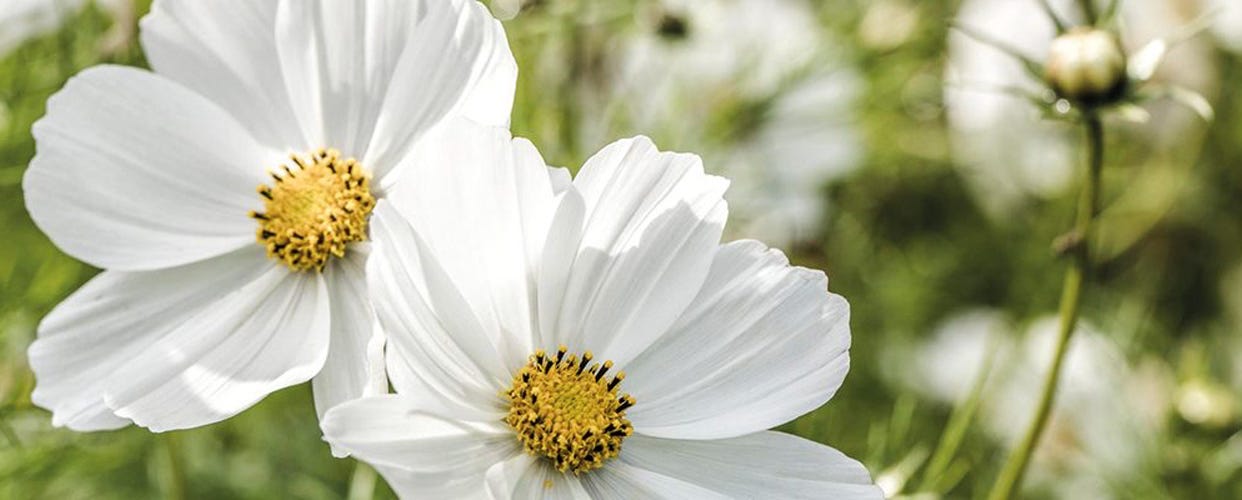 An Interview with Carole Bamford: The Daylesford Cutting Garden
Carole Bamford reveals the inspiration behind our Cutting Garden, which has brought fragrance, colour and English seasonal blooms, foliage and meadow flowers to Daylesford since the first planting in spring 2017.
What inspired you to create a cutting garden?
Since we founded Daylesford and started farming organically, I have been passionate about protecting the habitat and welfare of the bees. They are our essential pollinators and I want to do all I can to ensure we look after them. By farming organically, planting hedgerows and cultivating different spaces around the farm, we have already taken vital steps, but a cutting garden was a means of providing them with different sources of food and nutrients. This is particularly important just before spring, during the 'hunger gap', when not much is in flower around the farm, so the flowers that blossom in March, are a particularly valuable food source. But beyond the bees, I knew that the garden would bring other benefits both to the farm and to our visitors as well.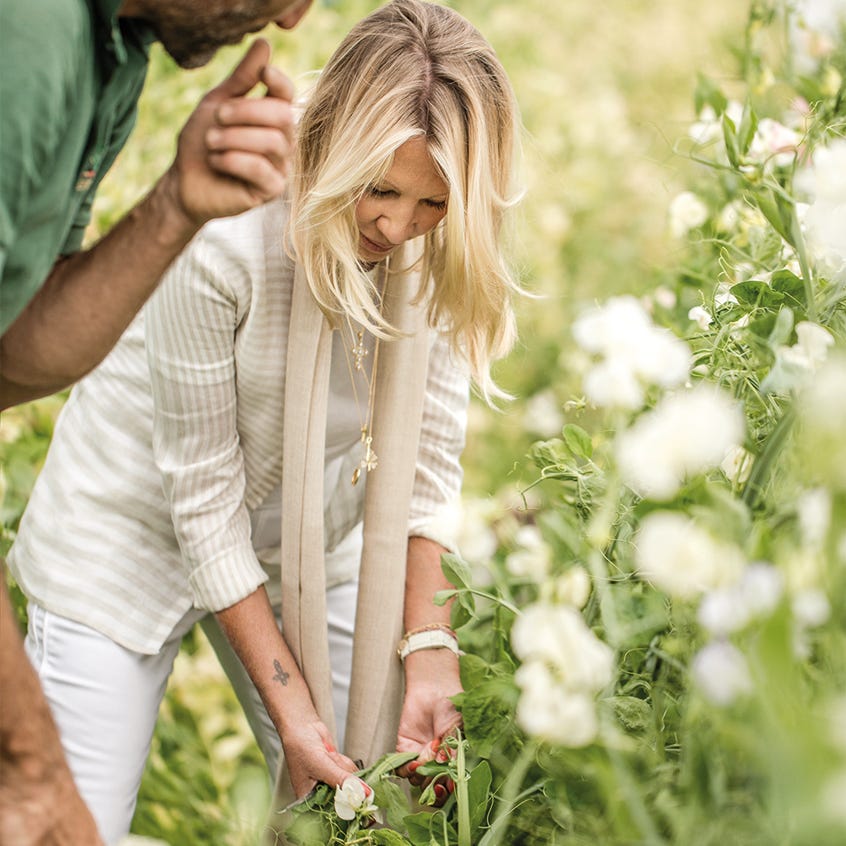 In what ways?
I've always grown flowers in my own garden and love being able to bring them inside to have a sense of nature in my home, and we knew that many of our visitors wanted to do the same. If you buy organic fruit and vegetables, it follows that you'll want to make the same kind of choices about sustainable provenance in other aspects of your life, so as a farm with the skills and space for horticulture we wanted to be able to offer visitors the chance to buy flowers, foliage and plants where they could be sure of how and where they had been grown. And for the farm, the flowers and foliage are foraged and used in our floristry courses and workshops and the trimmings from cutting the flowers are returned to our compost heap to replenish the soil, which benefits the rest of the Market Garden and our animals.
What can visitors expect from a floristry course?
The classes and courses are a unique, inspiring experience, offering visitors the chance to engage with the garden in all kinds of ways. From cut-flower care and arranging simple bouquets, to table decorations, wreaths, wedding flowers and botanical drawing, there's something for everyone, whether you're a gardener, a forager, a novice or budding florist. Each course begins with a visit to the beds, borders and polytunnels of our Market Garden to see and forage for seasonal blooms, before the workshop time, which covers everything to do with preparing cut flowers as well as the theme of that class.
How do you choose what's grown in the garden?
A lot of what's grown is inspired by flowers that are favourites of mine – we have lots of sweet peas, 10 varieties of peony and 15 different types of rose because I am particularly fond of these, but most of the choices are made by Jez, head of our Market Garden, as he knows what we can grow well in our soil, as well as what's going to be best for pollinators. Scabious and cosmos have been very successful, and the zinnias have been a joy – they have produced beautiful long-stemmed flowers which look very striking in a vase; they last well too.
One year on, what do you feel is the biggest achievement?
Jez and I have enjoyed the surprises the garden has brought us. The tulips have been a particular delight – having a vase of tulips and watching them evolve over the 10 days or so has been fascinating. And I've loved seeing the enthusiasm there has been for the pots of bulbs during the winter months – the paperwhite narcissi have been very popular and I like the idea that visitors will be able to enjoy them again – indoors, or outdoors if they've planted them carefully in their own garden.


And are there any plans or hopes for the future?
I'd love for the garden to continue to inspire people. By passing on the skills of our growers and florists, I hope we can gently encourage visitors to consider growing things at home themselves. Whether that's flowers to support our pollinators or seasonal fruit and vegetables to produce their own food, the smallest changes can have a huge impact on our environmental footprint.
And the fragility and fleeting nature of the flowers in the garden remind us all of their seasonality and of the hard work that gardeners undertake to produce food and foliage. Unlike non-organic growers who use pesticides and chemicals, we won't be able to sell tulips throughout the year because they aren't in season, and so to me the garden serves as a wider reminder to value what we have. We are at nature's mercy so we have to work in tandem with nature and protect rather than fight against it to ensure we can continue to grow things long into the future.
Full details on our Garden Workshops and to book here.