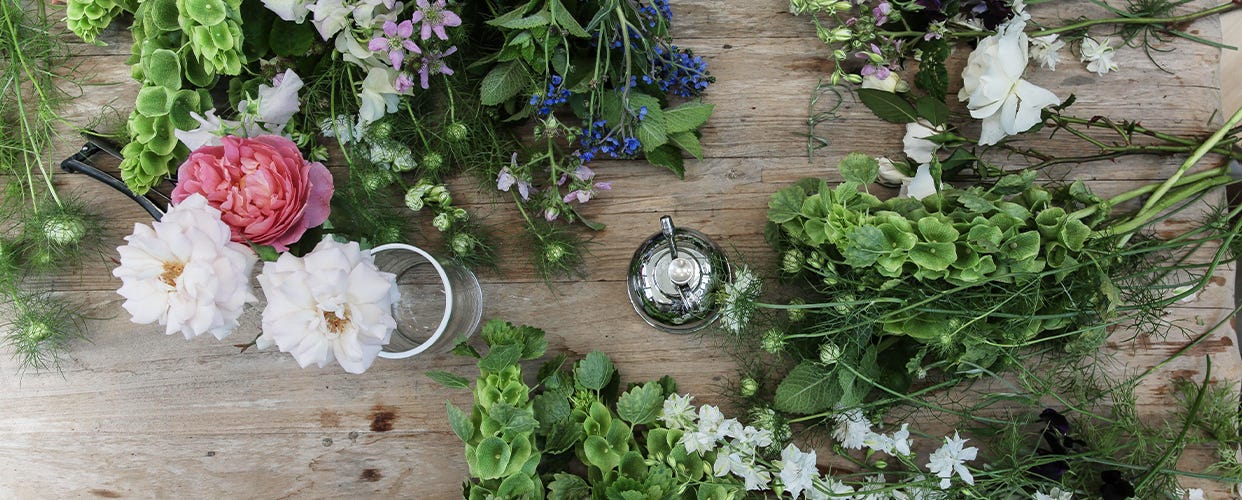 An Interview with our Floristry team
Kim Robinson, Floristry Manager at Daylesford
Please could you tell us more about your journey in the floral arts – how you got started and progressed as a florist and any career highlights?
My journey started with my mother telling me to apply for the florist job in town when I left school. I had no idea what a florist job entailed, let alone a wish to have a career in floristry. But my passion was born and the rest is history!
During my career I worked on many weddings and events, which are such hard work yet lots of fun.
But the ultimate highlight of my career is the job that I do now. Leading a team of florists at Daylesford, no two days are the same. My role involves overseeing the organic Cutting Garden, weddings, events, house dressing, workig with our stores in London and the Cotswolds and so much more. Most recently I've helped to develop our new range of British flower arrangements available online.
With our own Cutting Garden and ability to forage from the surrounding woodland and estate, it is a joy to create throughout the year and use the organic seasonal flowers and foliage, embracing nature and natural sustainable floristry at its best.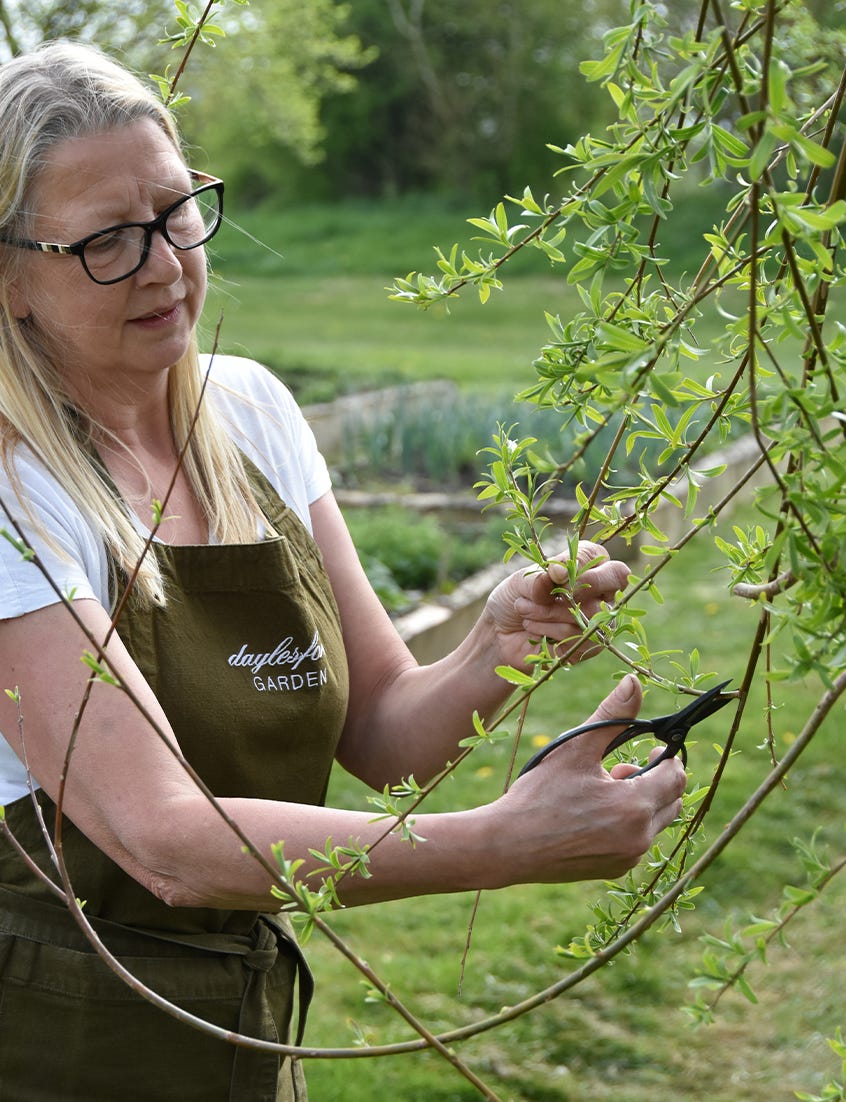 What are your favourite blooms to use in the spring?
Each season has its own favourites and always so many to choose from!
Spring for me starts with the snowdrop – although technically still winter, I see it as the harbinger of spring and a promise of things to come. The smell of the first narcissi and daphne, primroses and violets in the woodland, new green leaves uncurling in the trees, prunus bursting and catkins, all signal warmer days to come and a new season starts.
What cut flowers and foliage would you recommend people try and grow in their own gardens?
If you are new to gardening then I would recommend that you keep it simple, start with planting bulbs in pots for the spring. During the summer months sweetpeas are easy and the more you cut the more they grow, so you can enjoy their perfume in the house. Herbs are also easy to grow and complement any flowers that you might pick, they too have a beautiful subtle aroma that would fill a room with its perfume.
Top tips for displaying flowers in the home?
Before you commence always make sure the vase that you use is thoroughly clean. Fill with fresh water and add a small amount of lemon and sugar to the water to nourish the flower and cut down on bacteria build up in the vase
If cutting from your garden, then do so early morning when it is cool and the flowers are fully hydrated.
Cut the stems at a 45degree angle and place straight into water.
Refresh the water every other day, cleaning the vase each time to prolong the life of the flowers.
When placing in your room, choose a cool position away from direct sunlight and heat.

Lesley Young, Lead Floristry Tutor at Daylesford
Please could you tell us more about your journey in the floral arts – how you got started and progressed as a florist and any career highlights?
I started with formal training in Floristry and Flower Production before progressing into retail and event floristry, including larger scale floral decorating for a wedding florist in a range of beautiful venues around the home counties.
I taught at a college in Kent for 25 years, during which time I supported students who showcased their floral skills and designs at the Chelsea and Hampton Court Flower Shows – their silver gilt and gold medals made me so proud.
Another career highlight is co-writing a Floristry book with Judith Blacklock, a well-known London-based teacher and author.
Tell us a little more about working at Daylesford.
With its nature-focussed Garden Room and in-house team of florists, Daylesford is unlike any other retail florist or workshop. The emphasis on showcasing seasonal materials and foraging from the Daylesford estate is unique and inspirational, and links well with Daylesford's naturalistic style and strong sustainable ethos.
Guests who sign up to Floristry Workshops may visit our Cutting Garden and Market Garden to see what flowers are available, and pick them to include in their designs.
We offer a range of different workshops, all focussing on sustainable floral techniques and offering up to date tips and advice. Workshops range from handtied bouquets to floral crowns, seasonal wreaths and hearts, right through to wire arrangements. This year, we have expanded the offer to include some larger scale designs.
What is the signature style of floristry at Daylesford?
Naturalistic, with an emphasis on showcasing the lovely natural curve of a stem and using flowers and foliage in season. This gives a very loose, almost "wild" look that is cleverly crafted to look as though nature has simply walked inside.
The beautiful Garden Room area gives all visitors inspiration for floral combinations as well as selling a wide range of seasonal blooms, plus accessories from cutting tools to vases.
What can people expect if they sign up to a floristry course?
An inspirational and relaxed environment in which they create their own floral design under expert guidance.
Half day workshops are long enough to be able to create a beautiful design while allowing time for other activities such as lunch and shopping.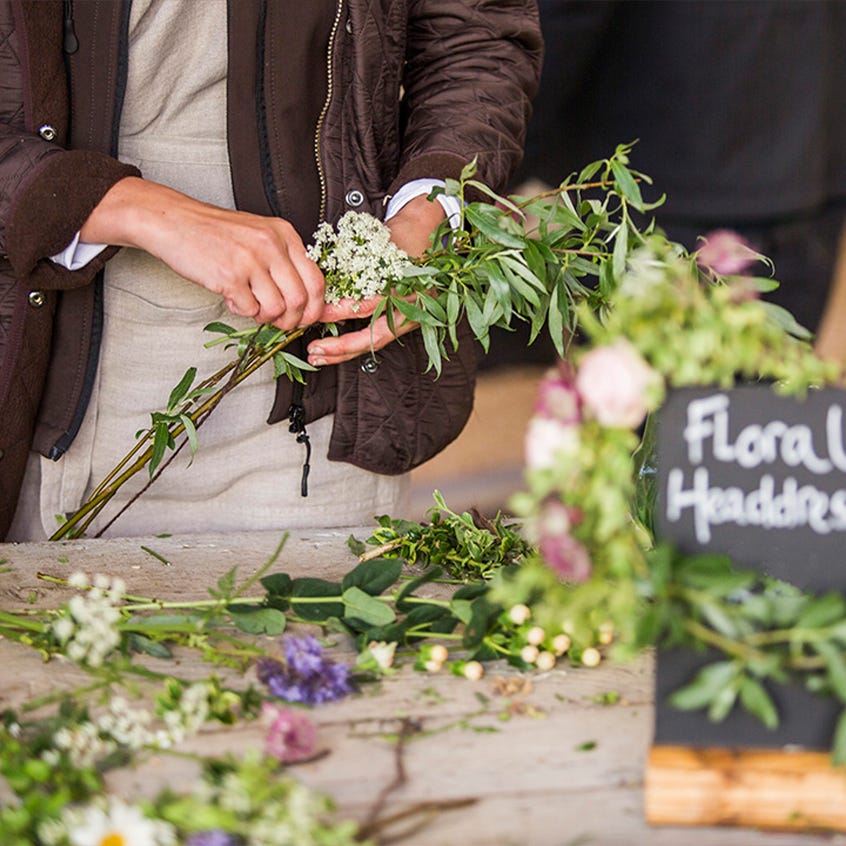 Which courses would you recommend for different abilities?
The majority of the workshops are suitable for all abilities. The new workshops that focus on larger scale designs (such as floral urns, large heart and flower clouds) are more suited to those who have had a little experience of floral design previously.
Anything else worth mentioning?
Many guests book further workshops: the best way to develop any new skill is to repeat it until it's fine-tuned! Also, because different flowers and foliage are available throughout the year, you get new combinations as the seasons change.