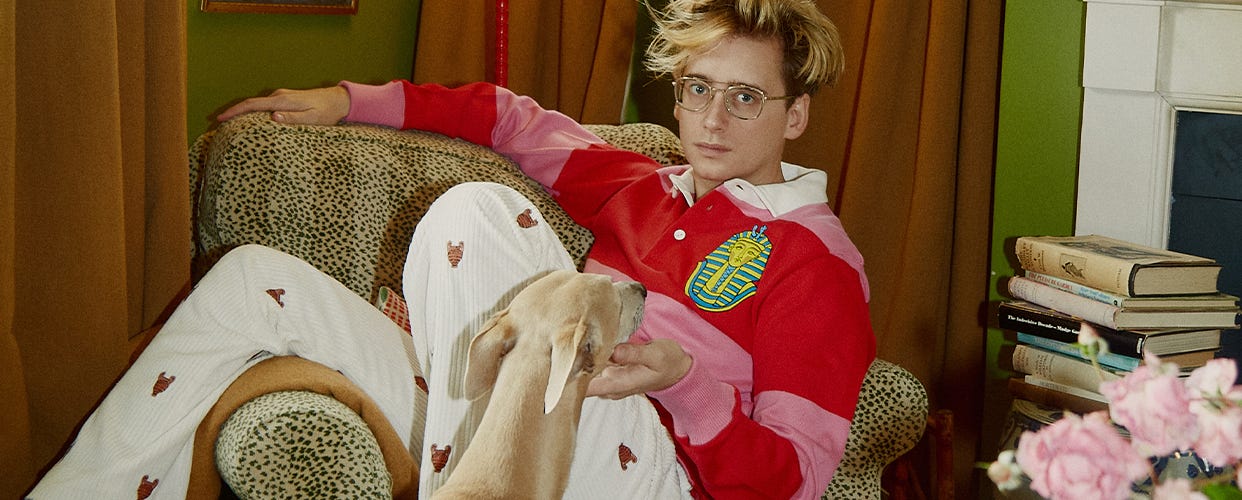 Luke Edward Hall's Gift Guide
It's impossible not to admire the bold, distinctive, colourful style of artist and designer Luke Edward Hall. His passion for interiors extends to a joyful enthusiasm for Christmas festivities and generous gift-giving – even four-legged friends are considered in his gift guide for Christmas 2023.
"I am utterly mad about Christmas and I love nothing more than a really full-on festive atmosphere at home. My husband Duncan and I enjoy messing around with our interiors throughout the year - arranging flowers, rearranging furniture, adding more layers of clutter - but at Christmas, as we begin decking the halls, we reach a kind of frenzy of joy. We get so much pleasure from giving our cottage its Christmas makeover, carols blaring in the background, something roasting in the oven... Once the house is sorted, we have a stream of friends and family over for Christmas lunches and parties. Our cottage feels most alive when it's packed full with pals and we're all eating and drinking. Christmas is about conviviality, it's about bringing everyone together in a magical setting and having a really good time.
FOOD & DRINK
"You can't go wrong with an Antipasti Hamper, can you? The ideal assortment of snacks and drinks to serve to guests before dinner.
I love giving food gifts at Christmas, preserves and things in jars like these Cherries in Kirsch in particular. Somehow it makes one feel safe and happy, knowing there's a stack of good things in the cupboard.
I'm more of a nuts and chocolate guy than a dried peel kind, so this Organic Hazelnut & Chocolate Panettone is perfect and I probably won't be able to stand giving it away.
The Pink Pepper & Plum Cosmopolitan is the ideal Christmas Day cocktail! Should get things merrily moving."
FESTIVE FANCIES
"This Murano Red Spiral Stripe Glass is perfect for yuletide Negronis.
I always enjoy adding to my box of Christmas decorations, so might have to keep this papier maché cow for myself...
I rather love the idea of adding packets of seeds to my Christmas cards this year.
Who doesn't need a good supply of matches at Christmastime? These are a great gift to take to other people's houses.
Dressing my whippets in capes for Christmas Day - a must, surely..."